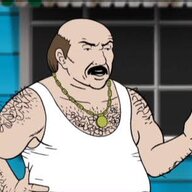 never forget chad grumpus RIP










2021-2022 Week 2
​
Jesus christ the only NFCE team that had a win was the BIRDS so GO BIRDS! i guess. anyway FOOTBALL THREAD TIME
JERRY JONES NOSE BROS STANDINGS AND MATCHUPS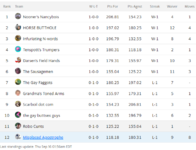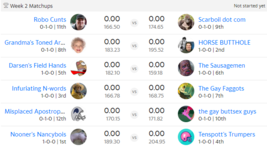 Looks like this weeks big match up will be between Nooner's Nacybois and Tenspott's Trumpers, with potential for big numbers!

BLOW OUT OF THE WEEK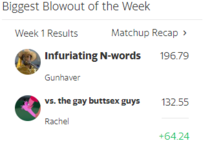 Last weeks big blowout was Gunhaver's N-words who absolutely
BLACKED
Nooner's faggot wife by 64 points

WEEK 2 Injury Report As of Thursday Night
Deshaun Watson (out, sex offender), Evan Engram (out, calf), Saquon Barkley (questionable/limited, knee),
WEEK 2 Highlights Reel








FOR FUCKS SAKE THE NFL SUCKS ASS LET ME EMBED THE GODDAMN VIDEO FUCK YOU GOODELL
BROADCAST SCHEDULE AND MAPS
Thursday Night:
NY Giants @ Washington (FOX; Joe Buck, Troy Aikman)


WARNING: JOE CUCK AND TROY ASSMAN GAY ZONE


(fuck me)
Sunday Night:
Kansas City @ Baltimore (NBC; Al Michaels, Cris Collinsworth)
Monday Night:
Detroit @ Green Bay (ESPN; Steve Levy, Brian Grise)
Don't for get the MegaCast alternate commentary feed of MNF with the Manning Bros. on ESPN2!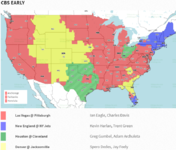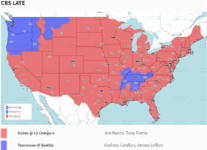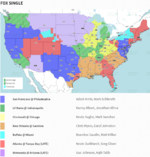 I am riddled with HIV, the virus that causes AIDS, now if you excuse me I'm gonna work on my lineups last minute.